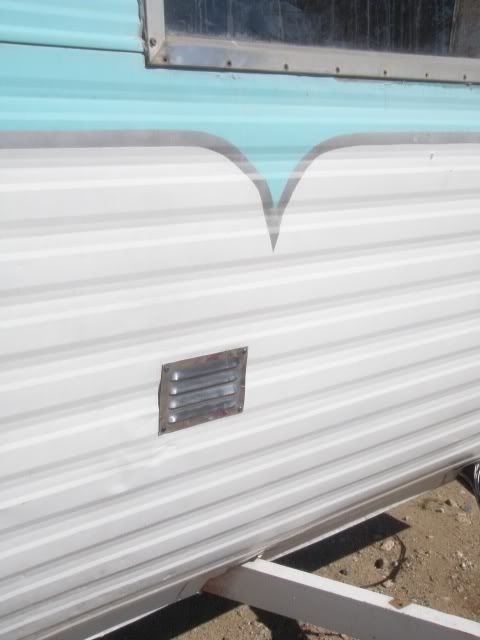 So I was walking around the Deville this morning after feeding and saw the screen the PO had put over the slash in the front tin.
I need to get that fixed before I button up the front end. I plan on using some flashing metal...cut to a smaller size then the screen and placed on with screws and putty tape to keep the water from coming in. Perfect scenario would be to put a whole new piece of tin but that 's not in the cards. Maybe down the road.
I also glanced at the window that has to come up and the hole cleaned of the residual silicone....the curse of restoration! I need to get on that sooner then later. There is simply no easy way to get that stuff off.
Been working on the interior cabinets while everything is torn up and being rebuilt. Going pretty good and i learn something every day. I am using Shellac and found a system that works for me. I use a brush to get it on the wood and start by stripping the cabinets three times.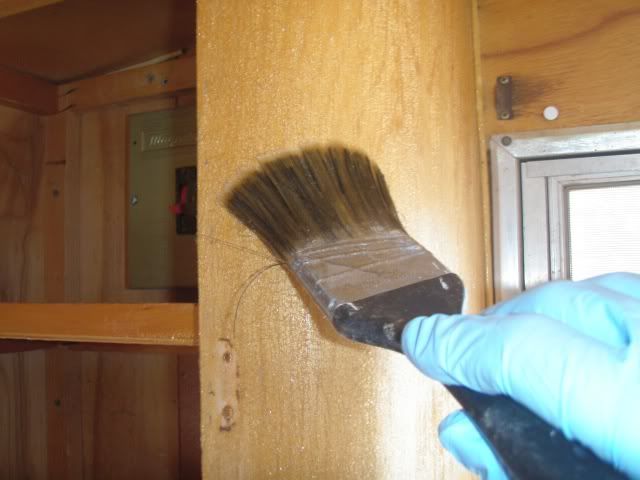 I mask everything within a few feet or where I might slip and get this stuff on.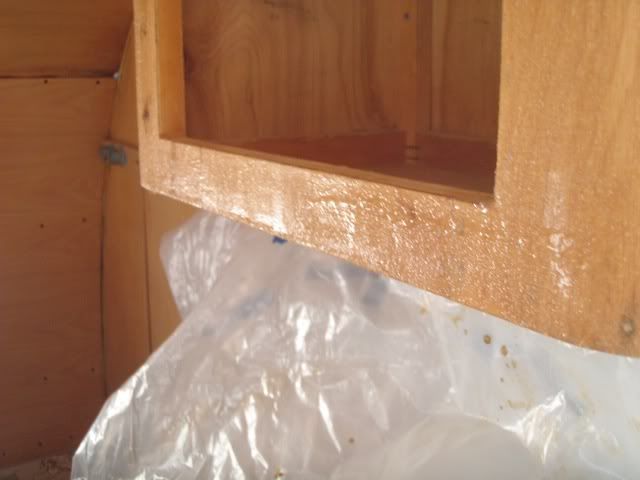 The stuff is wicked bad for you and I always getting it inside my gloves somehow. Like having some pissed off red ants running around and biting your wrists. I let it set for 15 minutes and scrap it off.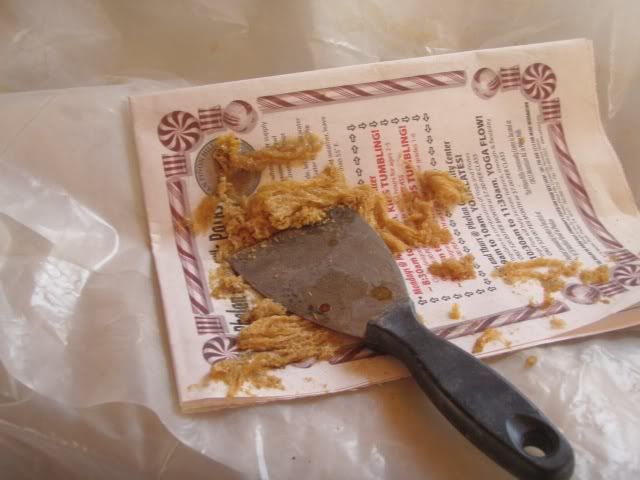 After the third time, I wash the wood with coarse steel wool and water. It comes looking pretty clean. A lot of these cabinets were incredibly dirty and scuffed but have cleaned up very well. They also have rounded edges which I do not have the skills to reproduce so salvaging them was a priority. I am very pleased with the results.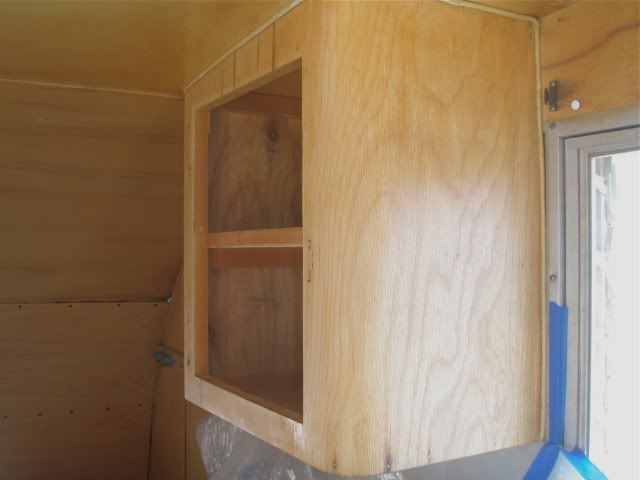 I'll let it dry for a day....sand it with 220 and start the Shellac. I am putting a base coat of two to three coats of thinned Amber shellac and alcohol...almost 50/50. I put that on with a brush. When that dries well, I start doing what is called a French Polish technique or at least my version. It is labor intensive but I am not on a timetable and I am very pleased with the results. Here is the cabinet that is on the other side of the sink.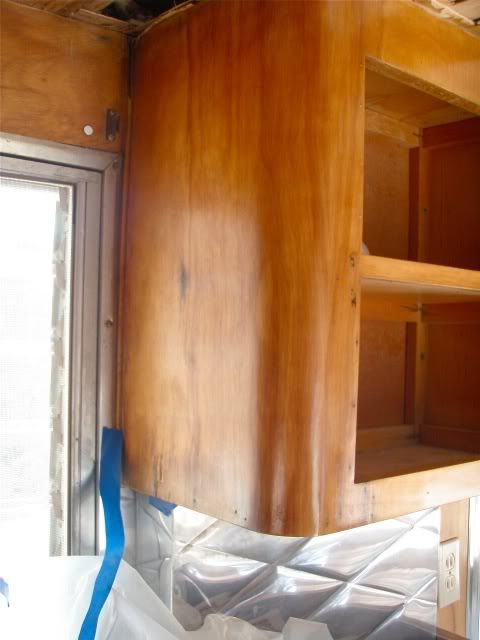 I cannot capture the depth and color of the cabinet with my point and shoot but it is almost like furniture. No brush strokes. This is only the Amber Shellac. I begin using the clear shellac today and will build up even more.
Here's the cabinet that goes over the dinette. We love our propane light!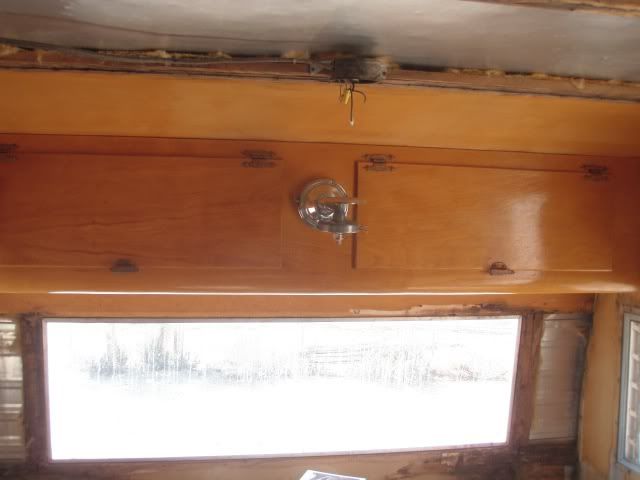 I take a rag and fold it up and over another rag. I pull the rag tight... like a baseball over the stuffing and dip it into the shellac and alcohol mixture and start rubbing. The goal is to not feel any resistance and to put very thin layers down. If it starts sticking very badly, I will put a drop of mineral oil on the rag to finish to area. When that is done, I go over it with a drop or two of alcohol to "spirit it off". Bottom line is that you can put coat after coat on as it dries in minutes. Same process as used on guitars and violins.
That's what I have been doing. We have the dinette upholstery back and it turned out incredible. Can't wait to get them back in. Here's a before picture of the dinette: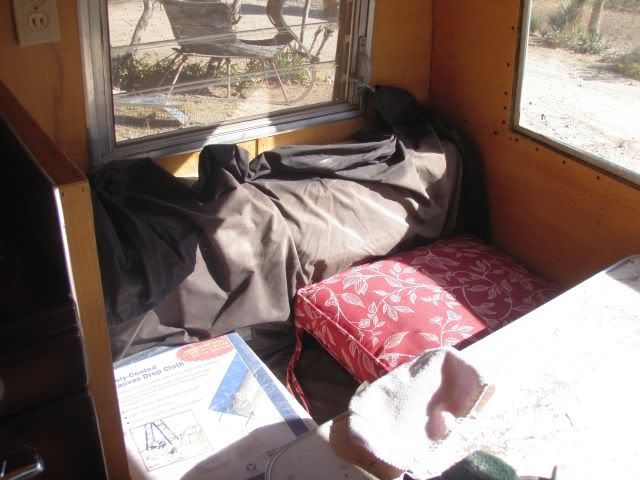 Here's what the new one's look like.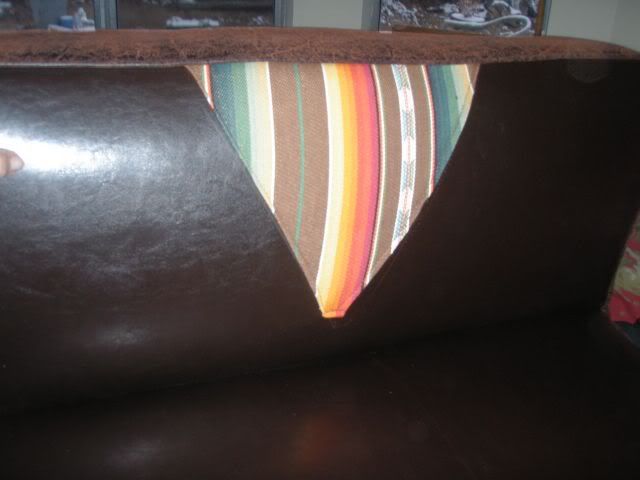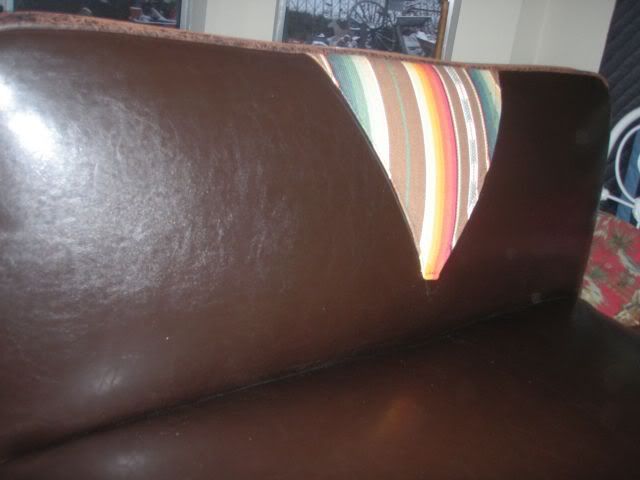 My photography does not do justice to how cool the leather and distressed leather along with Serape material accent look.
I'll leave you with the view we are blessed with every day of the year. Ever changing but always spectacular.