Just a short entry to share our pleasure with a cover we bought on EBAY for the Deville. I think we paid under a hundred for it but it could have been a bit more. We knew the trailer must leak and we live in a foothill area that sees a lot of snow some winters. This winter had been mild but some years, we measure the snow in feet. They called for snow today at well below our elevation and I put the cover on last night.
Here's this morning's weather....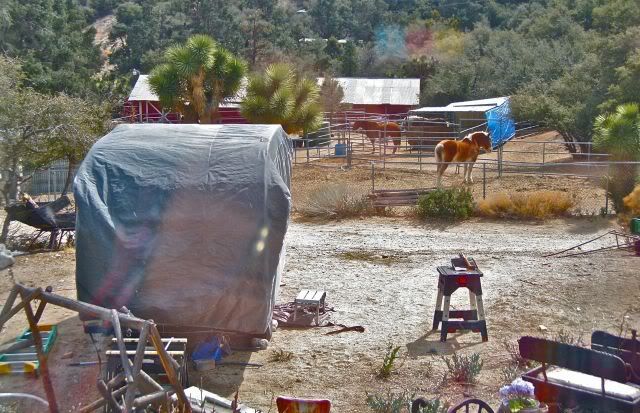 Here's the beginning of the storm. The horses always stand out in the snow....always. Really used to trouble me that we gave them warm and dry shelters but they stood out with the snow piling up on their backs. They have a built in cover with that winter coat they grow, I guess.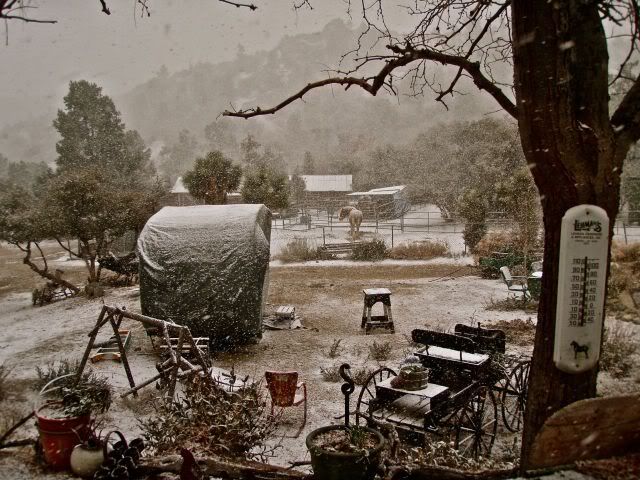 We were waiting to get the front end rehab started when we might have three or four days of good weather. Maybe next week.
We have used the cover through several rain events and are very pleased with how easy it goes up (as long as the wind is not blowing like crazy) with one person doing it. I use a ladder....roll the cover from each end to the center and place it on the roof in the middle of the trailer. I move the rolls back and forward till gravity takes it over the edges and climb down to secure it. Until I learned that rolling to the center trick, it could take me a bit with the wind blowing.
Next post, I'll share what I have discovered about doing my birch wood and what I have decided on.
Here's one of our locals taken out the front window...they enjoy the snow as well!